Oh baby…I love having amazing meals like these prepped and in the freezer. It is so so so so nice having meals stashed away in the freezer for those days when I don't feel like cooking, or those days when I have nothing left in my energy reserve, or those days when a bunch of crap happens and you're so tempted to overspend on a meal for your family by hitting up the drive thru.
Kiss that "what's for dinner?" question to the curb with the FreezEasy meal plans!!!
Let me tell you about the meals in the All Skillet Meals Meal Plan from FreezEasy:
Beef Fajita Skillet: All the amazing flavors of beef fajitas…made in just minutes on the stovetop. Cook everything together in the skillet, then stir in some corn tortilla strips just before serving and voila!
Easy Beef & Broccoli Stirfry: Fakeout, takout! Straight Outta the Freezer! It really is as easy as dropping it all in the skillet or wok, stirfry-ing it up…and serving over some rice.
Chicken Pineapple Curry: My favorite curry, and I think it might be your favorite soon too. Also, easy to bump up or tune down the heat by using more or less curry paste and curry powder. If you've never tried curry before, this is THE recipe to start with!
Chicken Alfredo with Peas & Bacon: Scrumptious alfredo, loaded with chicken, a touch of sweetness from the peas and bacon….BACON. Drop this in the skillet, warm it up and toss or serve with side of pasta noodles. New family favorite meal, right here!
Sweet Potato & Chicken Sausage Hash: A one dish meal…where everything you need for the meal is cooked in the same dish…or in this case, skillet. Chicken sausage slices, diced sweet potatoes and diced bell peppers…a filling and complete meal. (Of course, you could serve it with salad or more veggies too.) So simple, so delicious!
To make this super simple and easy for you, every FreezEasy Meal Plans contains recipes, a variety of shopping lists, assembly notes, assembly instructions, assembly video and printable labels sheets. (See example below.) You'll have these 10 meals put together in no time…well, about an hour to be exact! 😉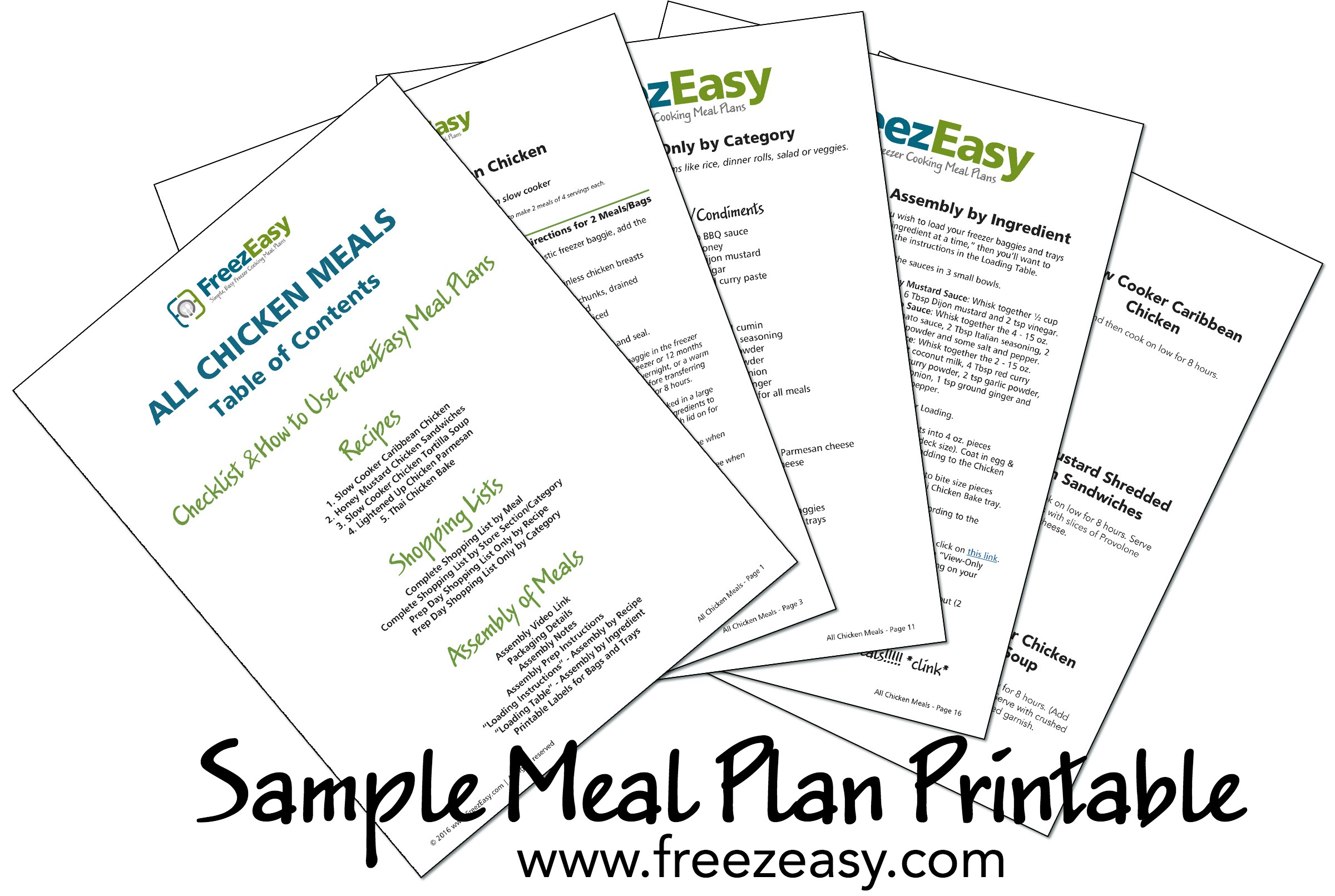 Let's get the dinner hour under control again with these amazing and delicious freezer meals! Get yours now!