Oh baby…I love having amazing meals like these prepped and in the freezer. It is so so so so nice having meals stashed away in the freezer for those days when I don't feel like cooking, or those days when I have nothing left in my energy reserve, or those days when a bunch of crap happens and you're so tempted to overspend on a meal for your family by hitting up the drive thru.
Kiss that "what's for dinner?" question to the curb with the FreezEasy meal plans!!!
Let me tell you about the meals in the All Grill Recipes Meal Plan from FreezEasy:
Grilled Herb Chicken & Zucchini: Toss some chicken, fresh herb marinade and some sliced zucchini all together in a grill basket for an amazing, light and tasty summer meal! (And don't worry…if you don't have a grill basket, it's just as delicious cooked on the stovetop!)
Grilled Lemon Pepper Chicken: Classic Lemon Pepper marinade that soaks right into the chicken as it thaws, leaving it tender and flavorful once grilled.
Grilled Greek Chicken Kebabs: Love me some kebabs…and these Greek Chicken kebabs won't disappoint. All the amazing flavors of the Mediterranean – lemon, oregano, olives, red onions – all thrown together on skewers. These will be perfect for your next summer BBQ!
Grilled Beef Fajitas with Veggies: Yes, yes…both the meat and the fajita veggies prepared together and stored together in the freezer. (It's these little things that make life easier…like not having to dig around in the freezer for 2 baggies for the meal!) Marinated skirt or flank steak, with a pack of pre-sliced fresh bell peppers and onions. Summer meal perfection!
Grilled Pork Chops with Zucchini & Tomatoes: While the pork chops are grilling, the zucchini and tomatoes are too! Love being able to cook both the meat and the veggies on the grill at the same time. And just like the fajitas, I'll show you how to pack the meat and veggies together in the same baggie. Tsssszzzzzzzzzz….let's get grilling!
To make this super simple and easy for you, every FreezEasy Meal Plans contains recipes, a variety of shopping lists, assembly notes, assembly instructions, assembly video and printable labels sheets. (See example below.) You'll have these 10 meals put together in no time…well, about an hour to be exact! 😉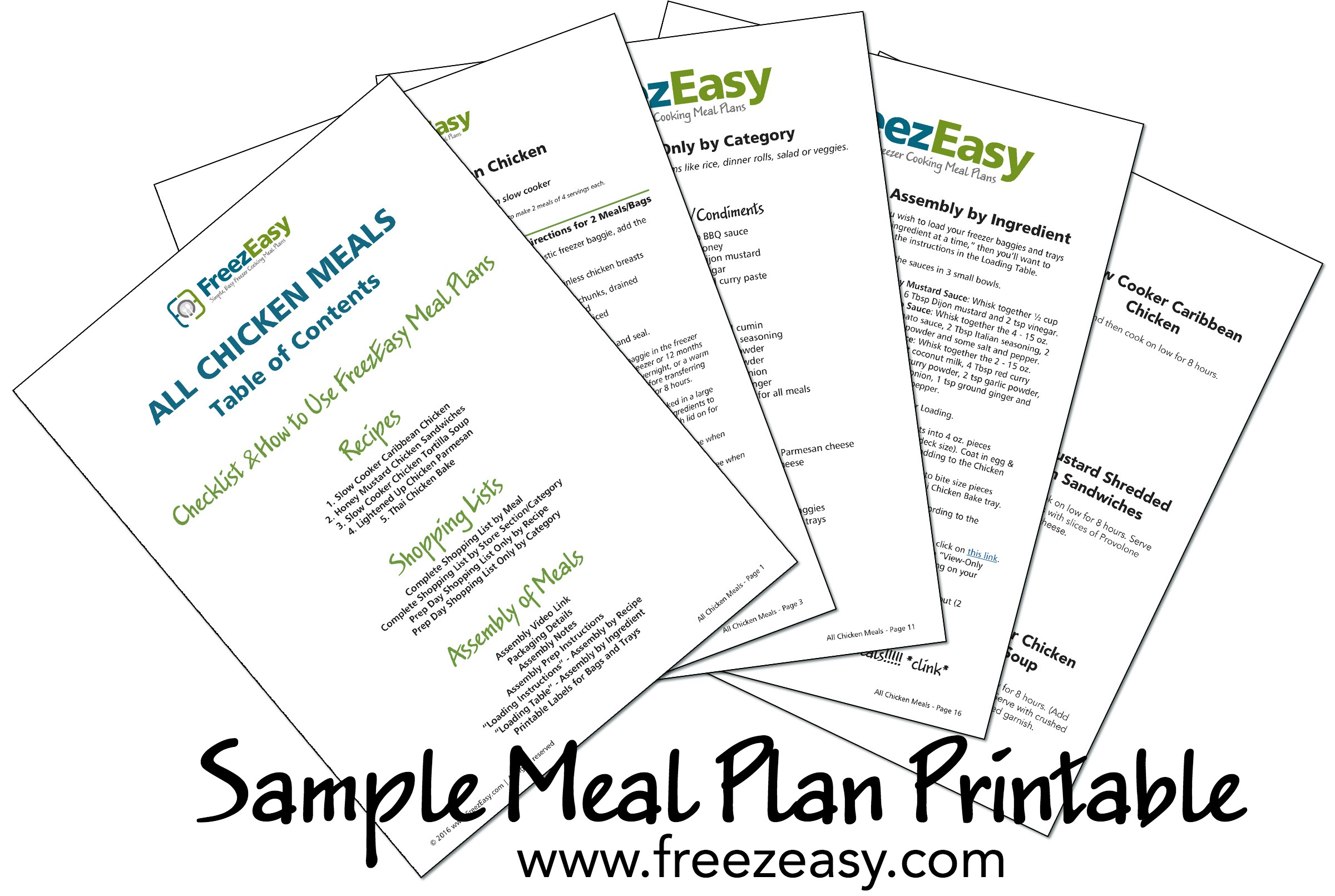 Let's get the dinner hour under control again with these amazing and delicious freezer meals! Get yours now!